CaTSat Zero: The first cansat programmed by boys and girls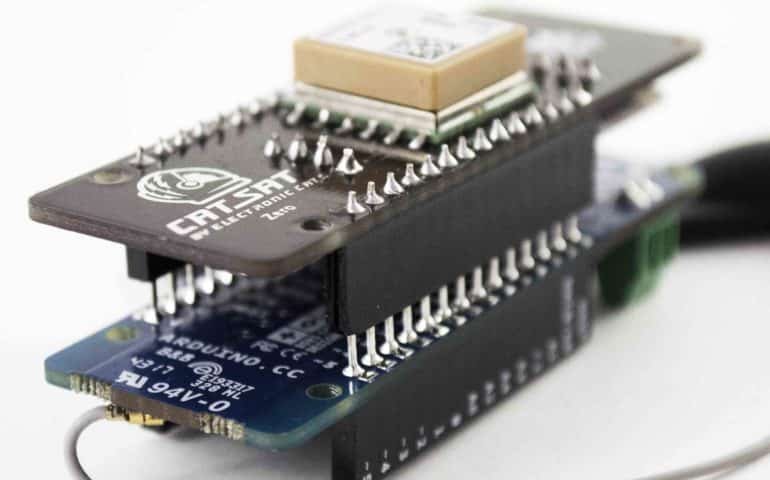 Because the second parts start from Zero
Two years ago we announced the CaTSat 1 our first picosatélite in ElectronicCats, today it is a great pleasure  for me to announce the next step in this space education race: the new version of our CatSat the CatSat Zero.
With this new version of CaTSat we make available to hobbyists, makers, students, researchers and children the possibility of developing a space mission in the simplest way possible.
The CaTSat Zero is the first space mission that can be programmed by children of 8 years thanks to its block programming system, which allows to control and read all its sensors, location and communication system. It is the first in the world to carry space missions at the primary level.
We leave the 8 bits and go to the 32 bits.
In Electronic Cats we started our migration from 8 to 32bits from some months ago, thanks to the SAMD21 microcontroller, our CatSat could not be without this improvement, and we do this by the hand of arduino with its MKR1300, which gives us the power to:
Microcontroller SAMD21 Cortex M0.

256Kb Flash.

4 Kb SRAM.

AA or AAA battery.

Battery level

100% compatible with the Arduino IDE.

Compatibility with other MKR shields.
CatSat Shield
We have created a shield that gives all our experience in space missions to the mkr1300 and converts it into a CaTSat.
We have worked for 4 months to bring to light a stable version of makecode that supports the Arduino MKR1300, in addition to temperature sensors, humidity, pressure, air quality and our greatest achievement a package of makecode for LoRa.
The new
What is new about this CaTSat mission is:
VOC sensor for CO2.

Programming by block thanks to Microsoft's MakeCode, a child can program a picosatelite and communicate with them.

Micropython is now supported, a language similar to python but for embedded systems.

New smaller and simpler earth station thanks to our CatWan USB Stick.
What is reliable and what has worked for us
Like our CaTSat 1, the CaTSat Zero maintains what has worked for us over these two years:
GPS location with support for balloon mode up to 80km high of altitude.

Pressure, temperature and humidity sensor in a single sensor.

Communication with LoRa with more than 70km of line of sight distance.

Open Hardware, the whole system continues and will remain open.

Manual of beginning with the biggest documentation in Spanish to develop a mission cansat.
Maker Faire Rome
The official event for the launch will be from October 12 to 14 at the Maker Faire Roma in the "Space" section, where we will be showing all the functionalities and demo programs.
Mi objetivo de este año es que sea tan fácil crear un picosatelite #CaTSat que hasta un niño lo pueda programar, guarden este tuit

— 🛰️ Sabas.uf2🚀 @ The Inventors House (@Sabasacustico) April 14, 2018
We fulfilled it, a satellite programmed by children, and I only have to say thank you to all those who believed that it was possible, Felipe Valero who, upon hearing the idea, said let's do it, to David Cuartielles de Arduino for supporting us with hardware, but above all to the great team of ElectronicCats and their great work, I am happy to have them by my side.
Finally, in our website available now! for all those who wish to acquire one.
To infinity and beyond!